Page 8 - Kanji From Zero! book 1 - PDF SAMPLE
P. 8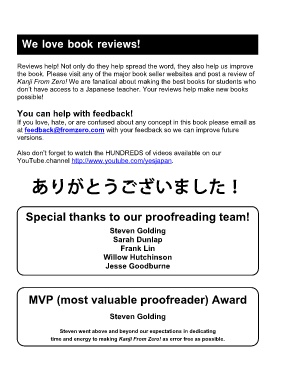 We love book reviews!



        Reviews help! Not only do they help spread the word, they also help us improve
        the book. Please visit any of the major book seller websites and post a review of
        Kanji From Zero! We are fanatical about making the best books for students who
        don't have access to a Japanese teacher. Your reviews help make new books
        possible!

        You can help with feedback!

        If you love, hate, or are confused about any concept in this book please email as
        at feedback@fromzero.com with your feedback so we can improve future
        versions.

        Also don't forget to watch the HUNDREDS of videos available on our
        YouTube.channel http://www.youtube.com/yesjapan.


              ͋Γ͕ͱ͏͍͟͝·ͨ͠ʂ






            Special thanks to our proofreading team!


                                               Steven Golding
                                                Sarah Dunlap

                                                   Frank Lin
                                            Willow Hutchinson
                                             Jesse Goodburne



             MVP (most valuable proofreader) Award


                                               Steven Golding


                          Steven went above and beyond our expectations in dedicating
                      time and energy to making Kanji From Zero! as error free as possible.